Newsletter spring 2009:
On 28 January last, Drs. Bert Biemans MA gave a lecture about the Old Masters from Gorinchem for the members of Probus and their partners, in the Groote Sociëteit in Gorinchem.
At the end of February 2009, Sarah Broekhoven, intern for the MA in Art History of the University of Amsterdam, finished her project at the Gorcums Museum. We now have a record of all important paintings from Old Masters from Gorcum that can be found in depots of museums in the Netherlands. Our aim is to open an exhibition in the autumn of 2010 where works from these storage areas will be shown. Thanks to the input of the internship supervisor Dr. Marten Jan Bok, associate professor at the University of Amsterdam, we have obtained a clear image of the way such an exhibition could be organised.

On 27 February last, the Golden Age Team has received Mrs. Jungyoon Yang, PhD student of Art History at the University of Amsterdam. Mrs. Yang is from Korea where she stays a few months per year. Since the Hamelstichting from Gorinchem has a strong interest in Korean contacts, see www.hamelhuis.nl, we introduced her to Mr. Dick van Zanten, chair of the Hamelstichting. Mrs. Jungyoon Yang will contact museums in Seoul to see whether they would be interested in putting on the planned exhibition of Old Masters from Gorcum of the Gorcums Museum in Busan as well.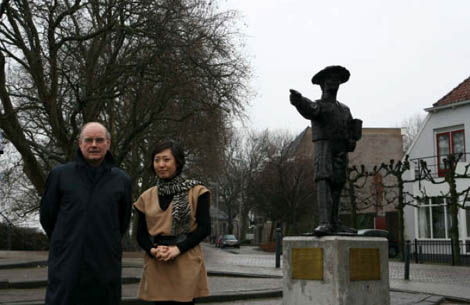 Mr. Bert Biemans with Mrs. Jungyoon Yang
next to the statue of Hendrik Hamel on the Havendijk in Gorinchem

On 14 March 2009, the Golden Age Team, together with a few invited guests, visited the TEFAF (the world's leading art fair) in Maastricht to make new contacts with art dealers.
On 17 March 2009, the Golden Age Team welcomed Mr. and Mrs. George and Ilona Kremer, owners of the famous Kremer collection, www.thekremercollection.com. After a short visit to the city hall, they visited the collection of Old Master in the Gorcums Museum. In principle, Mr. and Mrs. Kremer are willing to lend two paintings by Bloemaert to the Gorcums Museum.

On 20 May next, the Golden Age team will visit the Frans Hals Museum in Haarlem with a few invited guests, where the Kremer collections is being exhibited and where Mr. and Mrs. Kremer will provide a guided tour.

René van Dijk, employee at the Regionaal Archief Gorinchem (Regional Archive Gorinchem) has researched the place of birth of Cornelis Saftleven. From this investigation it has emerged that Saftleven was born in a rented house behind the Grote Kerk in 1607. Mr. van Dijk has also confirmed that Aert van der Neer was born in Gorinchem. Future catalogues and other books do not have to write 'Amsterdam ?' or ''Gorinchem ?' ever again. Now we know that the only right description is Aert van der Neer (Gorinchem, 1603 - Amsterdam, 1677).