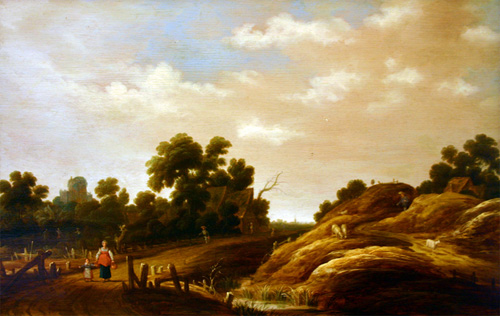 Joachim Govertz Camphuysen: Dunes with a peasant wife and child on a path near a farmhouse
oil on panel, 33,3 x 54,7 cm
Gorcums Museum





For a long time, it was unclear which painting was made by which member of the Camphuysen family of Gorcum.

The most important descendant of this family is Govert Dircksz Camphuysen, born around 1623 in Gorcum. He painted, amongst others, still lifes, Italian landscapes and portraits. From 1653 until approximately 1664 he lived and worked in Sweden, where he became the court painter of Karel X Gustaaf (Charles X Gustav) in 1655. Govert Dircksz died in Amsterdam in 1672.

Joachim Govertsz Camphuysen, a cousin of Govert Dircksz, was born in Gorinchem around 1601. He mainly painted landscapes. In 1621 he moved to Amsterdam where he died on 21 January 1659.

Rafael Govertsz Camphuysen was a cousin of both Joachim Govertsz Camphuysen and Govert Dircksz. He was born around 1595 in Gorinchem. Until he was 29, he lived in Gorinchem, but left for Amsterdam in 1626 where he lived until his death on 23 October 1657. Rafael Govertsz Camphuysen specialised in fires and night pieces, as well as moon, summer and winter landscapes.